Motorcycling is Risky Business – Personal Injury Attorneys
As this column is being written, the tragic events in the Gulf Coast are still unfolding. As the debate rages as to who is, or, rather, whom are at fault for lack of preparedness, we motorcyclists can learn a lesson from this primordial chaos and stench of death and destruction.
As we pour our donations into the relief effort and ask those questions, those same questions should be asked about ourselves in relationship to motorcycling.
Motorcycling is risky business. And if you don't know that, you'd better get out of it now while the getting is good.
So, how are you set up to handle that risk? Are you at the full state of preparedness which will keep you out of a death or serious injury situation or financial disaster because of known risks of motorcycling? Are you ready to confront that sudden emergency of that car turning left in front of you. Have you learned how to foresee that eventuality so that you can be prepared to react to it. Have you learned the scanning tricks or learned how to use Murphy's law as it pertains to motorcycling – what can go wrong probably will go wrong. Have you learned how to position yourself in traffic so as to give yourself the best edge possible to stay out of harms way? Have you learned the correct way to do a quick swerve so that you can dodge a hazard with a minimum of time lapse? And, if you have learned the technique, have you practiced it enough to make it automatic? Have you learned how to make a quick stop on a curve so that you don't go down if stopping is your only alternative? And have you practiced it? Why haven't you taken a motorcycle safety course? Are you wearing the proper equipment? Are tennis shoes, shorts and a T-shirt really the way to go when you're riding?
If the unthinkable happens and you cannot avoid that debilitating accident, have you provided a sufficient amount of medical and disability insurance to minimize the expenses to yourself and your family? Do you even know what kinds of insurance are out there to minimize the financial costs? Have you put a will into place? Or a comprehensive estate plan? Do you have a living will? What do you want to happen to you if you are in a vegetative state with no way out?
Anyone living on the edge, and motorcyclists certainly do, have an obligation to not only ask the questions, but to take the right steps to answer them positively so that you can say, I am ready . . . I am prepared.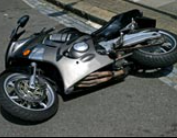 Insurance Tip of the Month.
Lately it has come to my attention that agents of certain insurance companies that issue motorcycle insurance – Progressive, for one, comes to mind – have been telling prospective insurance applicants that medical payments coverage would only cover the driver-owner of the motorcycle and blood relatives on the bike and nobody else. Nothing could be farther from the truth. Under §3103(2) of the no-fault act, motorcycle insurance companies are required to offer medical payments coverage to the owner of a motorcycle in increments. Motorcyclists are not required to purchase these benefits.
Where Progressive and others have it wrong is that, while under §3103(2), the company can provide for deductibles and coordination of insurance, by the statute's terms "These deductibles and provisions shall apply only to benefits payable to the person named in the policy, the spouse of the insured, and any relative of either domiciled in the same household." The non-resident, non-blood relative, passenger is not subject to those deductibles and otherwise has medical payments coverage from the motorcycle insurer to the extent of the purchased coverage.
Hope that clears up the question.
Until next time, ride SAFE and FREE.